I posted a while back about the gorgeous new Revlon Moon Candy polishes I managed to get my hands on. I tried Galactic first
here
and today decided to give Orbit a go. I have tried Satellite but was really disappointed with the look of it, the Burgundy base is lovely but the glitter comes out yellow and I just didn't like it! I really want to mix them up a bit though and try the glitters over some different colours. As much as I love the effect I think Revlon made a bit of a mistake and could have used more contrasting base colours so that the glitter showed up more.
Anyway, Orbit was my favourite of the three initially (its purple, go figure), but after trying them out I think Galactic is my favourite combination. Orbit has a gorgeous deep purple base colour which only needs one coat. These base colours have really impressed me as I don't own many one coaters. The glitter top coat although lilac in the bottle, comes out blue on the nail.
As you can see the glitter just doesn't show up very well. With Galactic, the glitter was really obvious and really stood out in the light, whereas Orbit just doesn't have the same effect.
I do really like these and I think over a different colour base this will look amazing, the colours are just too similar to put together. The glitter doesn't stand out and give the almost holographic effect that I got with Galactic. As a single polish though, the base colour is fantastic for needing only one coat and is a lovely purple.
I have to say for £7.99 I think these are a little overpriced for what you get. I was really swept up in the idea of them when I picked up three and I am slightly regretting it now, especially with Satellite. I wish I'd just looked for a flaky holographic glitter to go with the polishes I already own. I will keep trying though, I'm sure with a little colour mixing, you could get some really gorgeous effects from these polishes! Revlon posted this photo on twitter earlier and I love the glitter tips so this might be one to try! Also check out Satellite in the bottom pic, I just don't like the yellow!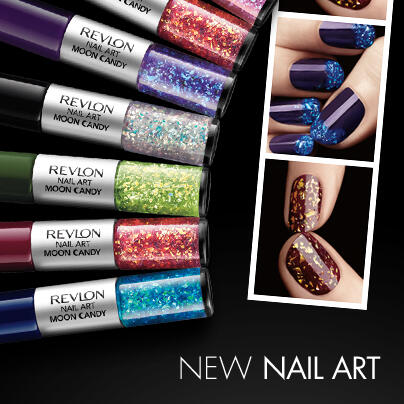 Has anyone else found a better way to use these yet? I'm not 100% sold on them, but I'll keep trying!