A few days ago a posted a picture of the new nail effects Seventeen are due to release on Wednesday, and being the nail addict that I am, I had to sneakily purchase one when I was at work the other day so I could give it a try! There are four different colours available, but I went for black as I thought the texture might stand out more.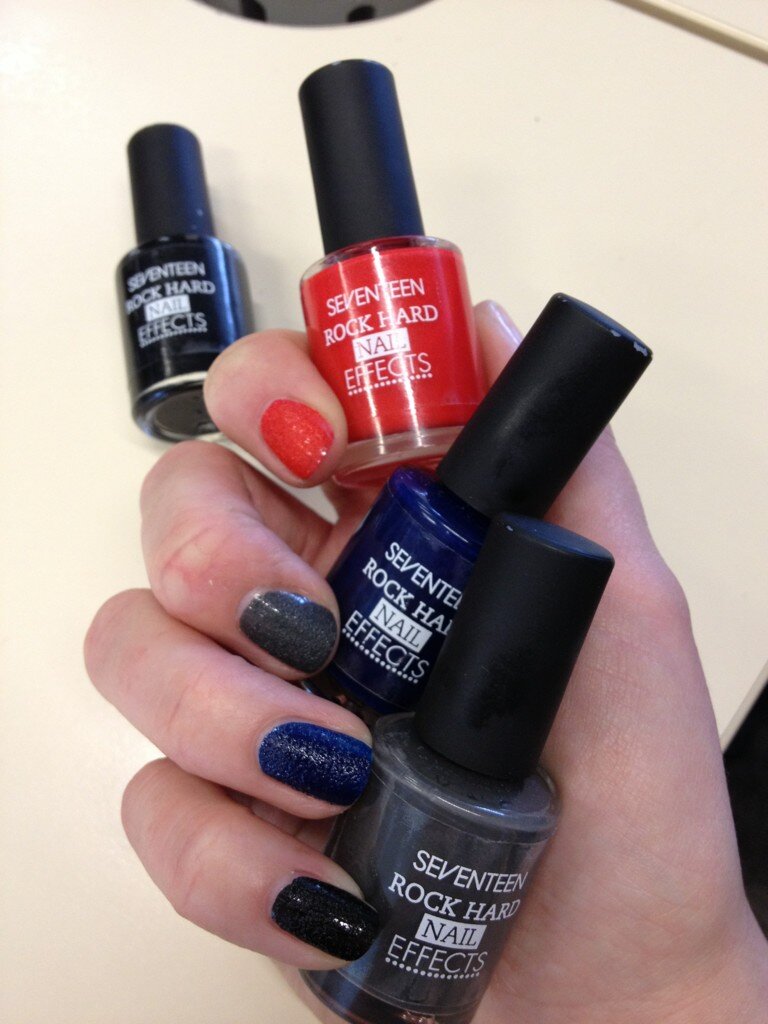 As I said before I think I prefer these to the Barry M textured polishes as I think the textured effect is better suited to the bolder colours than the pastels. The first thing I noticed when I tried this polish is how thick it is, but you only need a really thin coat as it dries to a better texture. Two coats gives great coverage and makes the texture more noticeable. It dries amazingly fast too, by the time I had painted my last finger my first few were dry. No sitting around waiting for this one!
I really am in love with this effect! It suits me perfectly, a little grungy but still glam, and I want to stick some studs on it but I might wait to see how well it wears first before I try anything fancier. It is described on the bottle as a matte black effect, but between the bumpy bits it is still really shiny, which adds to the contrast in the texture.
Having seen pictures of the Nails Inc Leather look polishes, I think this is an amazing dupe! A little more textured than the Leather polish, but pretty damn close! Fantastic for the price as you could get all four of Seventeens' colours for less than a single Nails Inc Leather!
Seveteen Rock Hard in Black vs Nails Inc Shoreditch Lane
I will definitely be getting the grey and blue ones when they are released properly! They will be available in Boots from the 20th! Well worth a go for £3.99 each!
What do you think? Will anyone else be joining me in getting some more of these next week?